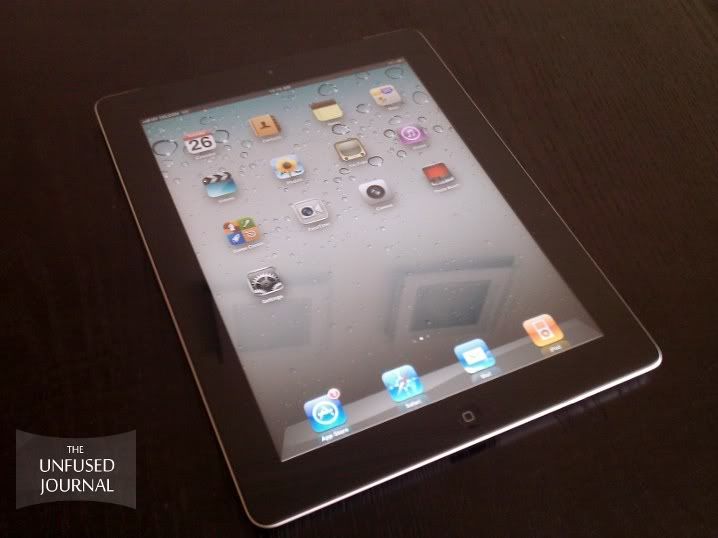 Apple's iPad tablet is the most popular, not to mention most successful tablet in the world. With the iPad 2, Apple took a shot at improving the tablet and squeezing some more profit out of something that's already at the top of the charts. See how well they did and how much effort they put into it by heading over after the break for the full review!
Personally, I've come to love the iPad, people have initially expected it to be a full blown tablet powering a full blown OS and have thus been disappointed when Apple (rightfully) decided to put iOS on it instead.
Being an owner of the original iPad, I have to say, it's changed the way I do many "computer" related activities on a day to day basis. For instance, I don't remember the last time I actually logged into my Hotmail account using a web browser, I also don't remember the last time I read a novel that wasn't digital, or took class notes that required writing on physical paper. I also wrote this review on an iPad, for what it's worth.
There's no doubt that other tablets out there like the Motorola Zoom or BlackBerry Playbook could serve the same purpose, but it's the simplicity and ease of use that makes the iPad stand out. However, I've come to notice that the definition of "simplicity and ease of use" and what it's worth varies from person to person and that's why some of you might have very strong critical opinions of the tablet.
Hardware
Let's get the hardware out of the way first, the iPad 2 is a significant upgrade over the original iPad, doubling the processing power and the RAM, adding two cameras all the while making the device thinner, lighter and best of all (for most people at least), maintaining the same price.
The iPad 2's brain has been upgraded, the A5 processor (designed by Apple and manufactured by Samsung) works wonders, its blazing fast. Unfortunately, it made me realize how slow the original iPads processor is, which isn't really slow but using an iPad 2 for a few minutes and then coming back to iPad 1 will leave you uncomfortably conscious of the performance difference. It's like test driving a Mustang, and you can truly feel the cars energy, then your times up and you get back into your Prius, you press the pedal to the floor only to come to the realization that your Prius, is not a Mustang. Just for the record, I don't drive a Prius that was just an example. You get the same type of feeling when you use an iPhone 4 with a Retina Display and then switch to an iPad, you can suddenly see all the pixels as impossible as it seems, and it's pretty frustrating.


Point is, the new dual-core 1GHz processor is noticeably faster, loading and switching between applications is a breeze, Safari is so much smoother and large, demanding applications are no longer as demanding.
Apple have increased the RAM capacity from 256MB in the original iPad to 512MB in the iPad 2, this increase allows you to run more applications simultaneously and eliminates loading times and checkboxes when scrolling down long web pages in Safari, making your overall experience far more responsive.
512MB is nothing to brag about though, considering competing tablets like the BlackBerry Playbook ship with a full gigabyte, but then again, the PlayBook can handle multitasking a 1080p flash video in the background while doing other things at the same time without a hiccup. So the OS might be the limiting factor here, not the RAM itself.
As for storage, the iPad still comes with either 16, 32 or 64GB models, unlike previously rumored, there is no 128GB model which would have been nice to have if your a movie buff like me.
Apple's new toy is a hair thinner than the iPhone 4 (note the pins raised reflection on the iPad in the image above). With its tapered edges I wouldn't be too surprised if people start using it as a chopping knife. Made from the usual aluminum back and glass surface, the iPad 2 is still as sturdy as it used to be. The device is also noticeably lighter than its predecessor, making reading books or watching movies for extended periods of time a little more bearable and easier on your arm.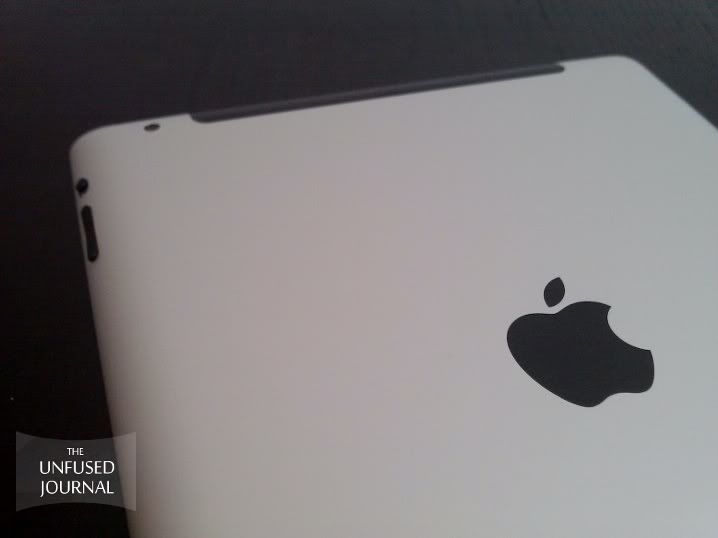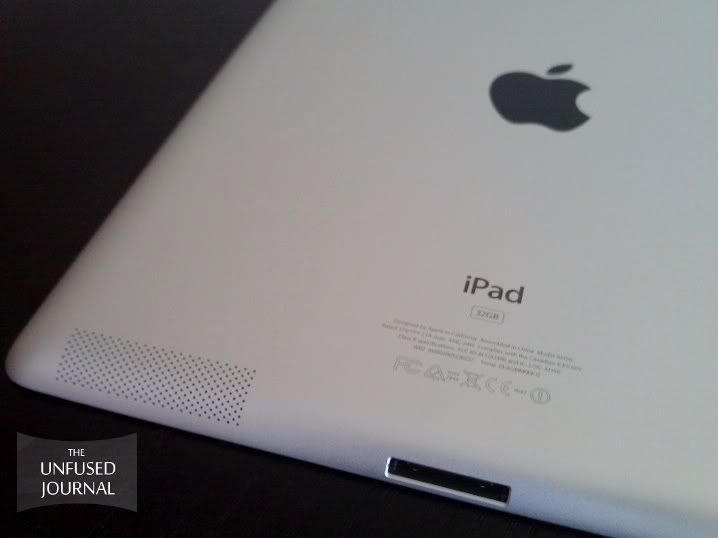 The camera department is where Apple made their biggest mistake; they decided that it was a good idea to give the tablet the absolute worst cameras you would ever find on a high-end device in 2011. In fact, the two cameras (0.7MP back and 0.3MP front) are the exact same ones used on the iPod Touch 4, and if you've taken images/videos on the iPod touch 4, then you'll know that they are absolutely horrible, made even worse when paired with a larger screen like the iPads.
Now you might say that a tablet is not a device you should use to take pictures with and right you are. Apple claims that the cameras were mainly meant for FaceTime, but they must have some real guts boasting about HD.
To be completely honest, the front facing camera used for FaceTime or other video call services isn't all that bad, it's okay, but it's not that great either, besides, a higher resolution front camera would usually only lead to more lag during calls. A FaceTime HD camera wouldn't have hurt though.
Capturing Images & Videos
Just for the sake of it, here are some images taken with the rear camera (above) and a video recording sample taken on the iPad 2 (below). I tried to make them look as good as I could naturally (without manipulation besides cropping) by capturing them in broad daylight (it was a cloudy day though). Expect worse when recording in lower light conditions.
The display on the iPad 2 is identical to the one used on the original iPad, it's a beautiful display in my opinion. The IPS display still offers great viewing angles and other than the minor issues that paranoid iPhone 4-iPad owners face as mentioned before the display serves its purpose well.
Rumors originally suggested that the iPad 2 would feature a 2048x1536 "Retina Display", we later learned that a display like that would be too expensive to manufacture and supplies would be limited, in addition to that the A5 processor might have been a little too weak to power it. Not to worry though, you'll still be able to enjoy your multi-touch window into your iPad just as much as you used to before if you own the original iPad.
According to the latest rumors, LG and Samsung have already been contracted to supply Retina Displays for the iPad 2S/iPad 3 but it's just a rumor, or is it? So that's something to look forward to.
The iPad 2 comes in a selective package of WiFi and WiFi+3G in GSM or CDMA flavors across a range of 16, 32 and 64GB models. The model used in this review was a 32GB WiFi+3G (GSM) iPad 2. Since all iPads are carrier unlocked you don't have to worry about contracts, just throw in a Micro-SIM card and start browsing over EDGE or 3G. Compared with the original iPad the iPad 2 showed no speed differences on WiFi or 3G so there's nothing new here other than the inclusion of a CDMA chip on select models.
Comparison with original iPad
Speaking of the original iPad, here are some stills that detail the external differences of the two devices.
Software
The iPad 2 ships with Apples latest version of its mobile operating system, namely, iOS 4.3.3. The OS is lightweight, yet feature packed and optimized with touch in mind. It soars in everyday computing applications like surfing the web with Safari, handling email with Mail and other useful utilities like Google Maps, iPod and social gaming with GameCenter.
The main attraction here however are the 3 virtual stores (available on all iDevices running iOS 4.0 and above), the iBooks Store, the iTunes Store and most importantly, the App Store, without them, the iPad is a mere slab of metal.
The OS itself is no different than the one on the original iPad, except for some unique apps, so expect the same OS experience you're used to.
Thanks to the addition of the two cameras, the iPad 2 can utilize them in new applications, Apple of course like to set examples so they wrote two new apps for the iPad 2 themselves.
The first is FaceTime, its Apple's attempt at worldwide video calling, and thanks to the front facing camera, that feature has migrated to the iPad. It's as easy as selecting a contact that has FaceTime enabled on their iPod Touch 4, iPhone 4, iPad 2 or Mac and placing a call. Keep in mind that call quality depends on the users lighting environment and WiFi signal strength.
Another unique app that utilizes the new cameras on the iPad 2 is PhotoBooth, it serves no "real" purpose other than to show off the iPads ability to process multiple camera effects in real time, it's fun for the first couple of minutes but after that, you'll never launch the app again.
Nonetheless, there's a lot of potential for new iPad apps now that haven't had the opportunity to shine on the tablet before, Skype for example is one of those apps, we've seen hints before but it's now up to Microsoft to decide if a Skype iPad app would be in their and their customers' best interests. Facebook's new video call service (also powered by Skype) could also make an appearance too, now that I look forward to.
If you know TUJ, then you know we love games, and yes, the iPad 2 can run PC games*. Thanks to the new dual-core processor and up to 9x better graphics as Apple claims, games can now run with higher details, and with higher frame rates than before. Especially apps that are designed with the iPad 2 in mind like Unreal's Infinity Blade and Firemint's Real Racing 2 HD.
A pretty nifty feature of the iPad 2 is its ability to mirror it's visual feed in full 1080p to an external display like a TV. In games like Real Racing 2, this creates a near console like experience which I think is pretty cool to have coming from a tablet.
Battery Life
Despite the faster processor and slimmer profile, Apple managed to retain the same 10 hours of battery life from the iPad which is fantastic. For the record, Apple is the only company which understates their products' battery life because I get just about 10-12 hours of battery life on a single charge. This includes browsing the web over 3G, playing games and watching a movie or two. Fact is, you'll never be worrying about running out of juice, though it's important to note that the iPad takes about 2-3 hours to fully charge.
Apple took a shot at designing a cover for the iPad 2 just like they did with the iPhone 4 and its Bumper. However, just like the Bumper, the cover is half baked. The Smart Cover is made of either polyurethane or leather in a range of colors, they fold to serve as a stand and their inner layer is designed to pick up dust particles on the screen. What makes the cover "smart" is its ability auto-align while latching onto the iPad and to lock and unlock the tablet simply by lifting the cover or closing it. It's not magic; it works by using magnets in both the cover and the iPad.
Now the magnets might make the iPad 2 special, however, it might be a deal breaker for some because the magnets are there whether you have a Smart Cover or not. The excessive use of pretty powerful magnets on the iPad 2 might cause disruptions with other devices upon contact, especially mobile phones that you might place with the device in a bag or flash drives for example.
Final Words
To wrap up, I must say that the iPad 2 is not worth the upgrade if you're a first generation iPad owner. The faster processor, new design and the cameras just aren't enough to cut the deal. However, for those that don't have a tablet and are thinking of getting one then the iPad 2 is one to consider, as mentioned earlier the iPad is a game changer, paired with the sheer number of quality apps it makes for a great companion to the PC and an outright netbook replacement. Highly recommended.
PROS
CONS
Horrible rear facing camera
Storage is still limited to 64GB
iOS is still lacking in some areas